Product Summary
The RDC19222-302 is a low-cost, versatile, 16-bit monolithic, state-of-the-art Resolver(/LVDT)-to-Digital Converter. The single-chip converter is available in small 40-pin DDIP, 44-pin J-Lead, and 44-pin MQFP packages and offers programmable features such as resolution, bandwidth and velocity output scaling. The RDC19222-302 is available with operating temperature ranges of 0 to +70℃, -40 to +85℃ and -55 to +125℃. Military processing is available.
Parametrics
RDC19222-302 specifications: (1)Differential Voltage: ± 10 V max; (2)single ended: ± 5 v max; (3)overload: ± 25 v continuous 100 transient; (4)Frequency: DC to 40 kHz; (5)Input Impedance: 10M Ohm min //20 pf; (6)±Sig/Ref Phase Shift: 6 deg max; (7)SIGNAL INPUT (+S, -S, SIN, +C, -C, COS): operating: 2 ± 15%Vrms; overload: ± 25 V continuous; Input Impedance: 10M Ohm min //10 pf; (8)Nominal Voltage: ±5V; (9)Voltage Range: ±5%; (10)Max Volt. w/o: ±7V; (11)Damage Current: 14 mA typ, 22 max mA(each).
Features
RDC19222-302 features: (1)+5 Volt Only Option; (2)Only Five External Passive Components; (3)Programmable: Resolution: 10-, 12-, 14-, or 16-Bit; Bandwidth: to 1200 Hz; Tracking: to 2300 RPS; (4)Differential Resolver and LVDT Input Modes; (5)Velocity Output Eliminates Tachometer; (6)Built-In-Test (BIT) Output; (7)No 180 Hang-Up; (8)Small Size: Available in DDIP, PLCC or MQFP Packages; (9)-55 to +125℃ Operating Temperature Available; (10)Programmable for LVDT input.
Diagrams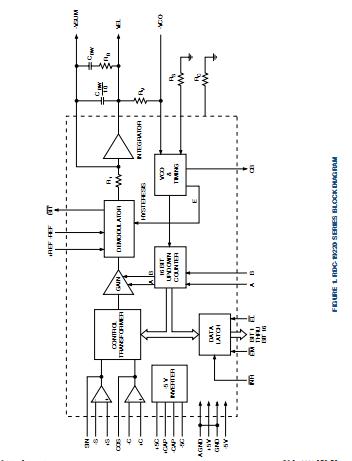 Image
Part No
Mfg
Description
Pricing
(USD)
Quantity

RDC19222-202

Other



Data Sheet

Negotiable
Image
Part No
Mfg
Description
Pricing
(USD)
Quantity

RDC100

ebm-papst

Fan Cords & Accessories PWM SIGNAL CONTROLLER

Data Sheet



| | |
| --- | --- |
| 0-1: | $110.20 |
| 1-10: | $101.32 |
| 10-25: | $91.52 |
| 25-50: | $88.20 |


RDC1014A09

ALPS

Industrial Motion & Position Sensors 10K ohm 14mm travel +-0.5% linearity

Data Sheet



| | |
| --- | --- |
| 0-1: | $1.78 |
| 1-25: | $1.48 |
| 25-50: | $1.33 |
| 50-100: | $1.18 |


RDC1022A05

ALPS

Industrial Motion & Position Sensors 10K ohm 22mm travel +-0.5% linearity

Data Sheet



| | |
| --- | --- |
| 0-1: | $1.78 |
| 1-25: | $1.48 |
| 25-50: | $1.33 |
| 50-100: | $1.18 |


RDC10320RB

ALPS

Industrial Motion & Position Sensors 10K ohm 32mm travel +-0.5% linearity

Data Sheet



| | |
| --- | --- |
| 0-1: | $2.20 |
| 1-25: | $1.83 |
| 25-50: | $1.65 |
| 50-100: | $1.46 |


RDC1047A03

ALPS

Industrial Motion & Position Sensors 10KOHM 47mm TRAVEL +-0.5% LINEARITY

Data Sheet



| | |
| --- | --- |
| 0-1: | $1.72 |
| 1-25: | $1.47 |
| 25-50: | $1.28 |
| 50-100: | $1.20 |


RDC1740-413B



IC CONV RESOLVER-DGTL 14B 32-DIP

Data Sheet