Product Summary
The B560C is a 5.0A surface mount schottky barrier rectifier.
Parametrics
B560C absolute maximum ratings: (1)Peak Repetitive Reverse Voltage, VRRM: 60V; (2)Working Peak Reverse Voltage, VRWM: 42V; (3)DC Blocking Voltage, VR: 40V; (4)RMS Reverse Voltage, VR(RMS): 28V; (5)Average Rectified Output Current @ TT = 90℃, IO: 5.0 A; (6)Non-Repetitive Peak Forward Surge Current, 8.3 ms single half-sine-wave Superimposed on Rated Load (JEDEC method), IFSM: 175 A; (7)Forward Voltage @ IF = 5.0A DC, VFM: 0.55V; (8)Peak Reverse Current @TA = 25℃ at Rated DC Blocking Voltage @ TA = 100℃, IRM: 0.5mA; (9)Typical Junction Capacitance, Cj: 300 pF; (10)Typical Thermal Resistance, Junction to Terminal, RθJT: 10 K/W; (11)Typical Thermal Resistance, Junction to Ambient, RθJA: 50℃/W; (12)Operating Temperature Range, Tj: -55 to +125℃; (13)Storage Temperature Range, TSTG: -55 to +150℃.
Features
B560C features: (1)Guard Ring Die Construction for Transient Protection; (2)Ideally Suited for Automatic Assembly; (3)Low Power Loss, High Efficiency; (4)Surge Overload Rating to 175A Peak; (5)For Use in Low Voltage, High Frequency Inverters, Free Wheeling, and Polarity Protection Application; (6)Plastic Material - UL Flammability Classification 94V-0.
Diagrams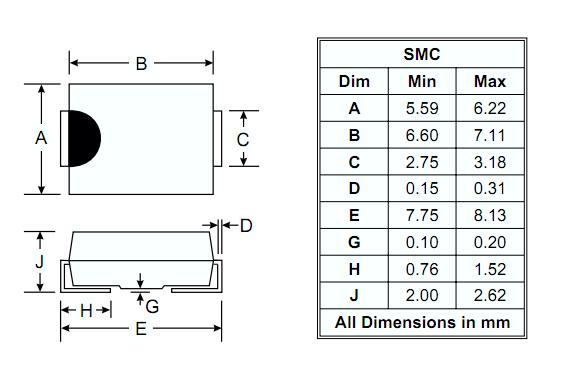 Image
Part No
Mfg
Description
Pricing
(USD)
Quantity

B560C

Other



Data Sheet

Negotiable

B560C-13

Diodes Inc.

Schottky (Diodes & Rectifiers) 60V 5A

Data Sheet

Negotiable

B560C-13-F

Diodes Inc.

Schottky (Diodes & Rectifiers) 60V 5A

Data Sheet



| | |
| --- | --- |
| 0-1: | $0.59 |
| 1-10: | $0.53 |
| 10-100: | $0.42 |
| 100-250: | $0.37 |