Product Summary
The STA335BW13TR is a 2.1 channels high efficiency digital audio system. It is an integrated solution of digital audio processing, digital amplifier control, and DDX-Power Output Stage, thereby creating a high-power single-chip DDX solution comprising of high-quality, high-efficiency, all digital amplification. The STA335BW13TR power section consists of four independent half-bridges.
Parametrics
STA335BW13TR absolute maximum ratings: (1)Vcc Power supply voltage (VCCxA, VCCxB): 30 V; (2)Vdd Logic Input Interface: -0.3 to 4 V; (3)Top Operating junction temperature: -20 to 150℃; (4)Tstg Storage temperature: -40 to 150℃.
Features
STA335BW13TR features: (1)Automatic Zero-Detect Mute; (2)Automatic Invalid Input Detect Mute; (3)2-Channel I2S Input Data Interface; (4)Input and Output Channel Mapping; (5)4 × 28-bit User Programmable Biquads (EQ) per channel; (6)Bass/Treble Tone Control; (7)DC Blocking Selectable High-Pass Filter; (8)Selectable De-emphasis; (9)Sub Channel Mix into Left and Right Channels; (10)Advanced AM Interference Frequency Switching and Noise Suppression Modes; (11)Selectable High or Low Bandwidth Noise Shaping Topologies.
Diagrams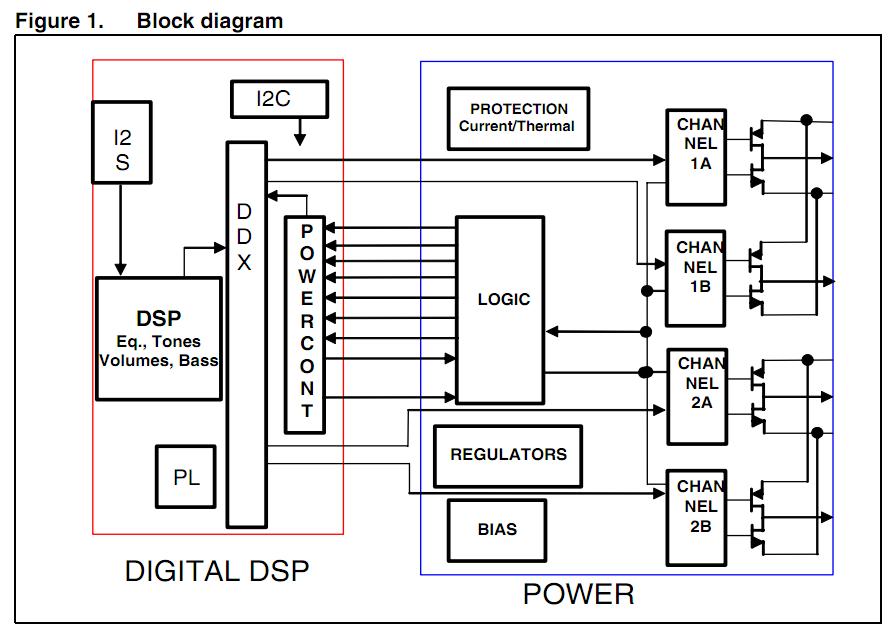 STA300

STMicroelectronics

Audio DSPs Digital Audio Proc

Data Sheet

Negotiable

STA3004

STMicroelectronics

RF Wireless Misc Single-IF channel AM/FM Dig Receiver

Data Sheet



| | |
| --- | --- |
| 0-181: | $15.19 |
| 181-250: | $11.01 |
| 250-500: | $10.12 |


STA3004TR

STMicroelectronics

RF Wireless Misc Single-IF channel AM/FM Dig Receiver

Data Sheet



| | |
| --- | --- |
| 0-448: | $13.56 |
| 448-500: | $10.10 |
| 500-800: | $10.10 |


STA3005

STMicroelectronics

RF Wireless Misc Dual-IF AM/FM Dig Radio Receiver

Data Sheet



| | |
| --- | --- |
| 0-180: | $16.36 |
| 180-250: | $11.86 |
| 250-500: | $10.90 |


STA3005TR

STMicroelectronics

RF Wireless Misc Dual-IF AM/FM Dig Radio Receiver

Data Sheet



| | |
| --- | --- |
| 0-281: | $14.60 |
| 281-500: | $11.28 |


STA301A

Other



Data Sheet

Negotiable