Product Summary
The KU80C186EC20 is a 16-bit high-integration embedded processor. The KU80C186EC20 is one of the highest integration members of the 186 Integrated Processor Family. Two serial ports are provided for services such as interprocessor communication, diagnostics and modem interfacing. Four DMA channels of the KU80C186EC20 allow for high speed data movement as well as support of the onboard serial ports. A flexible chip select unit simplifies memory and peripheral interfacing. The three general purpose timer/counters can be used for a variety of time measurement and waveform generation tasks. A watchdog timer is provided to insure system integrity even in the most hostile of environments. Two 8259A compatible interrupt controllers handle internal interrupts, and, up to 57 external interrupt requests. A DRAM refresh unit and 24 multiplexed I/O ports round out the feature set of the KU80C186EC20.
Parametrics
KU80C186EC20 absolute maximum ratings: (1)Storage Temperature: -65 to 150℃; (2)Case Temperature Under Bias: -64to 100℃; (3)Supply Voltage with Respect to VSS: -0.5V to 6.5V; (4)Voltage on Other Pins with Respect to VSS: -0.5V to VCC+0.5V.
Features
KU80C186EC20 features: (1)Integrated Feature Set; (2)Low-Power, Static, Enhanced 8086 CPU Core; (3)Two Independent DMA Supported UARTs, each with an integral Baud Rate Generator; (4)Four Independent DMA Channels; (5)22 Multiplexed I/O Port Pins; (6)Two 8259A Compatible programmable Interrupt Controllers; (7)Three Programmable 16-Bit Timer/Counters; (8)32-Bit Watchdog Timer; (9)Ten Programmable Chip Selects with Integral Wait-State Generator; (10)Memory Refresh Control Unit; (11)Power Management Unit; (12)On-Chip Oscillator; (13)System Level Testing Support (ONCE Mode); (14)Direct Addressing Capability to 1 Mbyte Memory and 64 Kbyte I/O.
Diagrams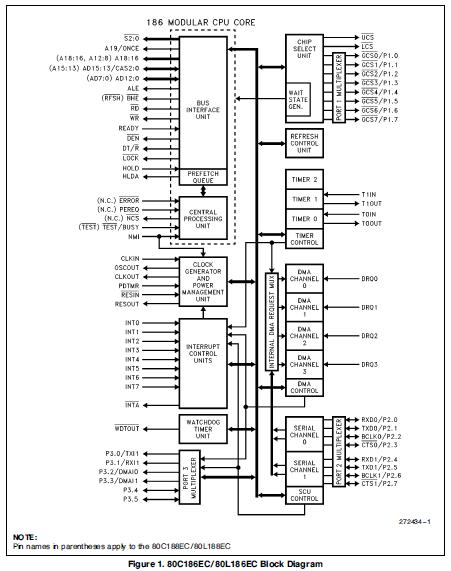 Image
Part No
Mfg
Description
Pricing
(USD)
Quantity

KU80C186EC20



IC MPU 16BIT 5V 20MHZ 100QFP

Data Sheet

Negotiable
Image
Part No
Mfg
Description
Pricing
(USD)
Quantity

KU80386EXTB25



IC INT PROC 3.3V 25MHZ 132QFP

Data Sheet

Negotiable

KU80386EXTC25



IC INT PROC 5V 25MHZ 132QFP

Data Sheet

Negotiable

KU80386EXTC33



IC INT PROC 5V 33MHZ 132QFP

Data Sheet

Negotiable

KU80386SXTA25



IC MPU 32-BIT 5V 25MHZ 100-QFP

Data Sheet



| | |
| --- | --- |
| 0-1: | $6.94 |
| 1-10: | $6.31 |
| 10-100: | $5.37 |
| 100-250: | $4.89 |
| 250-500: | $4.58 |


KU80386SXTA33



IC MPU 32-BIT 5V 33MHZ 100-QFP

Data Sheet



| | |
| --- | --- |
| 0-1: | $6.94 |
| 1-10: | $6.31 |
| 10-100: | $5.37 |
| 100-250: | $4.89 |
| 250-500: | $4.58 |


KU80386SXTA40



IC MPU 32-BIT 5V 40MHZ 100-QFP

Data Sheet



| | |
| --- | --- |
| 0-1: | $6.94 |
| 1-10: | $6.31 |
| 10-100: | $5.37 |
| 100-250: | $4.89 |
| 250-500: | $4.58 |